Run Rabbit Run 2021 Race Report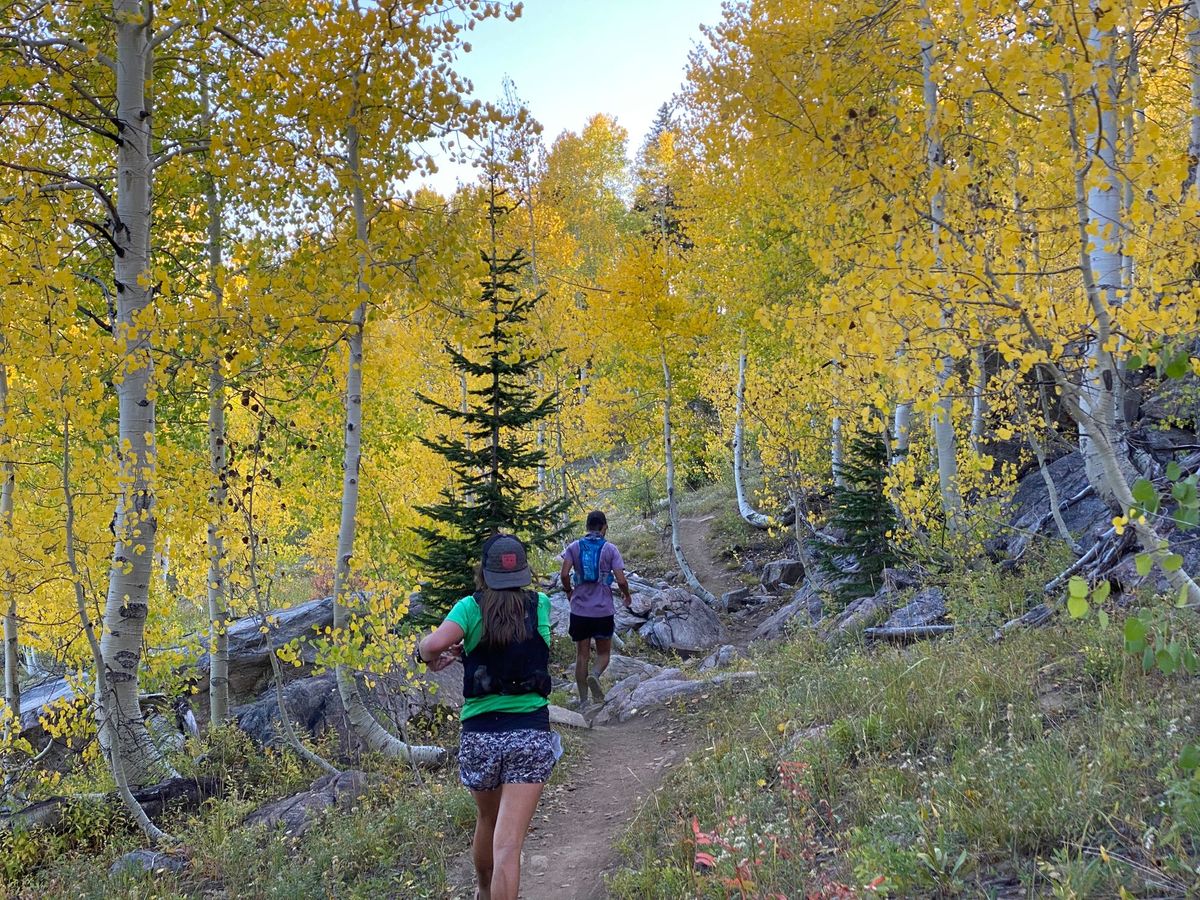 Ran the 2021 edition of Run Rabbit Run two weekends ago! My second effort at this distance, last year's effort being absolutely crushing – and we only ran that self-organized 100 miler because the RRR 2020 race was cancelled. Since the registration rolled over to this year (like so many others' races!), I never really thought about it: just always assumed, yeah, let's run the race this year. I'm already signed up, after all!
Pre race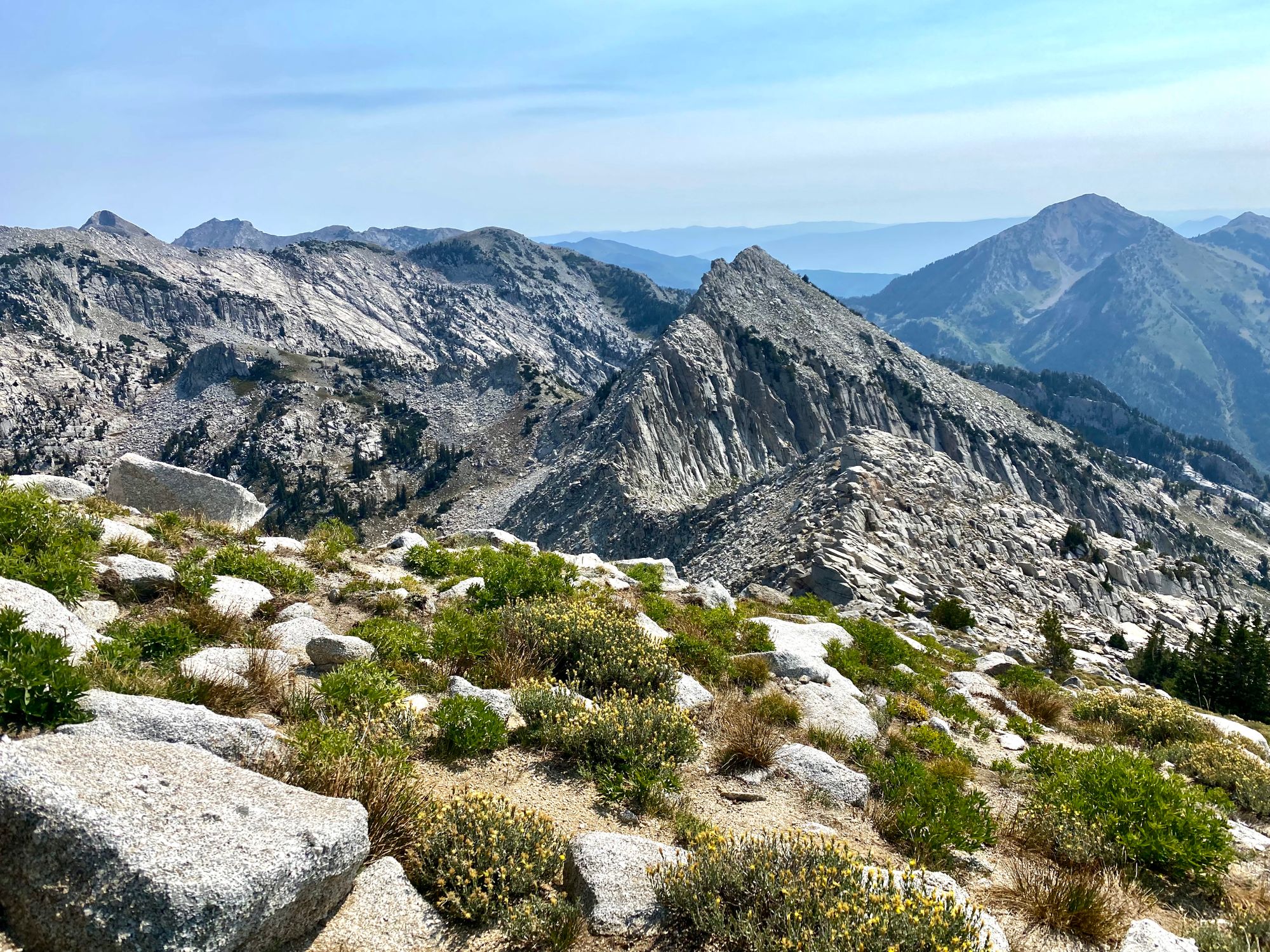 In classic Thomas fashion, I squeezed in a 32 hour, 20kft gain adventure with Ted on the WURL 11 days before the race. Wise? Probably not, but it was awesome to do the WURL, and honestly, the long duration out, the push through the night, and the second sunrise were good reminders of the mental space I needed for a 100 miler.
Coincidentally, Dennis had a good friend in Boulder, Jena, who was also running RRR, and Jena had recruited a whole crew of her Boulder running friends and her parents (who flew in from NY!!). They were lovely to include me in their plans, and it turned out to be pretty crucial and incredibly helpful to have them crew me, too.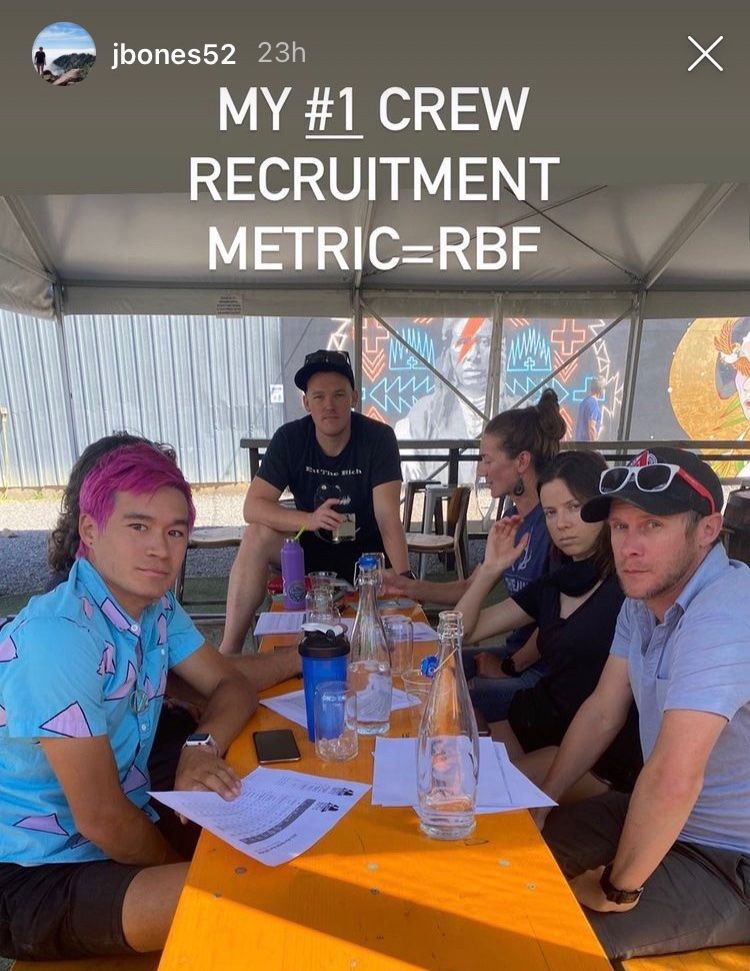 Otherwise, Owen's wedding in Boulder was the perfect taper activity, as well as some mellow continental divide and flatiron jaunts with Dennis & JLai.
Race day
One way Jena's crew was clutch was they came with a very nice house to stay in Steamboat. There was a bit of drama getting to the start line in the morning, but eventually both Jena and I made it just before the comfy 8am start (we both signed up as tortoises, not hares, who start at noon). We ended up starting together, 3500ft gain right out of the gate, up one of the steep ski hills of Steamboat Springs.
As usual with these steep starts, it gets pretty congested and there's plenty of downtime as everyone files into the single-track. It honestly was pretty nice to take the start easy and slow - took the stress off, and it became a great warmup, instead of hiking up the hill at max effort and just wrecking yourself way too early.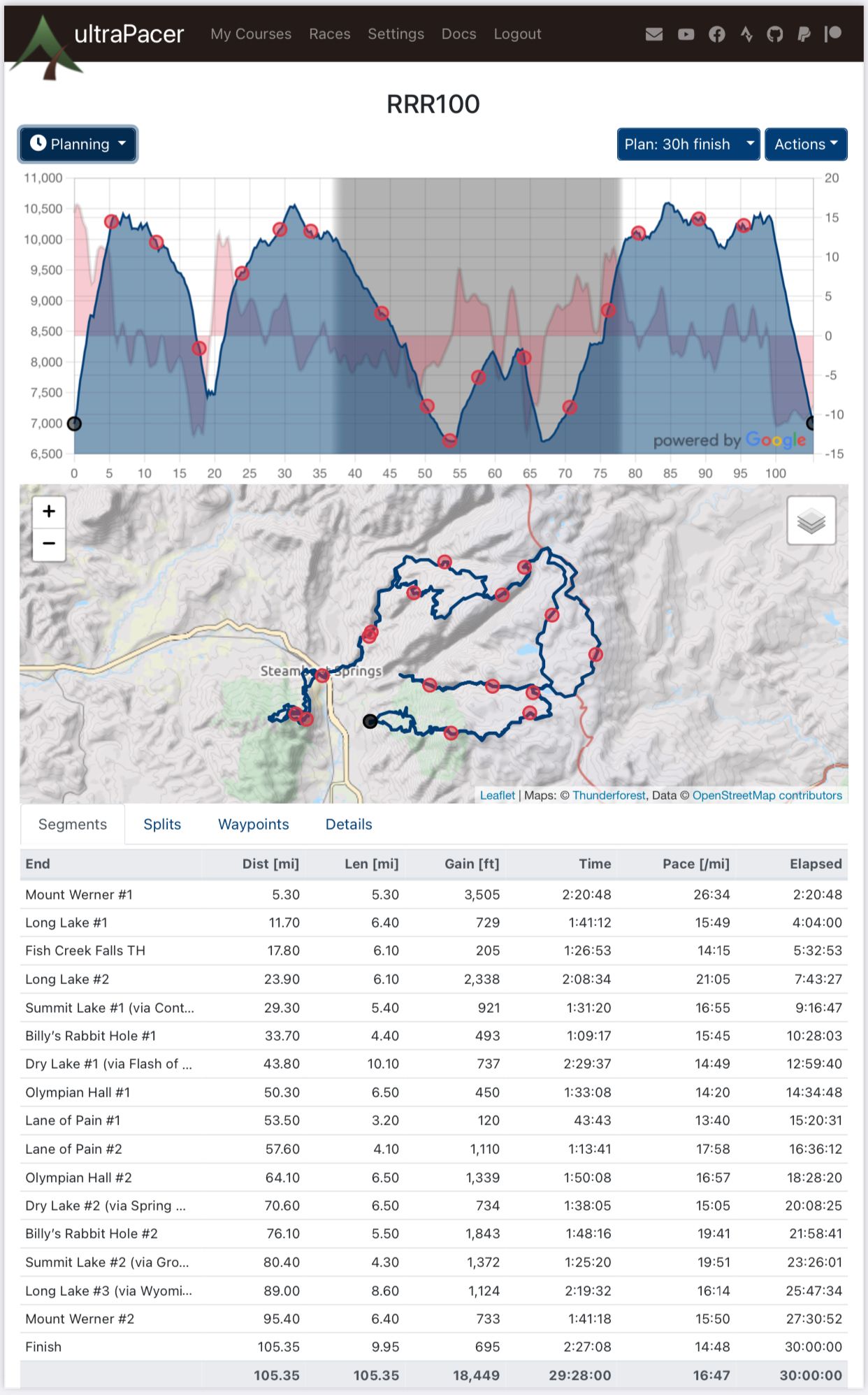 It was a relief to hit the first aid station, and start cruising the beautiful, rolling single track past Mt Werner. Jena and I naturally ended up sticking together, had some pleasant chats, and I just really enjoyed the late morning at altitude, jogging along at an easy pace, not bothered by the inevitable darknesses ahead.
Jena did kept passing people, which is a more aggressive stance than I ever take in a race. She was actually in a race mindset; it was a good reminder that these events are a good opportunity to push yourself. It doesn't have to be "just" a long run that happens to have other people and aid stations, which is how I've always approached races. I kept up with her, learning how to race.
These first 20-30 miles rolled by: the Long Lake aid station, down down down Fish Creek (hi crew!), up up up back to Long Lake. I did inhale some spray-on sunscreen accidentally at Fish Creek (mile 19), which annoyingly gave me an irritated throat for the rest of the race. Reminder to never use spray-on sunscreen, it's bad for the planet and it's bad for you.
By Summit Lake at mile 32, some signs of fatigue were showing, but not so much: we did muster the energy to exit the aid station with a dance. I noticed I was not eating much, having totally lost my appetite for all my bars, so much that I barely ever touched my drop bags for refills. I tried to eat as much real food as I could at the aid stations; at Summit, the twizzlers were particularly scrumptious (I know that's not real food..)
By the Flash of Gold section, I was starting to enter pain cave for real for the first time. I had run this section a month or so ago on my way from Wyoming to Rifle, CO; I-70 was closed due to mudslides in Glenwood Canyon from fires last year, and I thought it would be good to lay eyes on the dirt in Steamboat before the race. Coincidentally, I was running downhill through this incredible section of single-track at sunset a month ago as well, and it brought back some pleasant memories. Unfortunately, no amount of pleasant memories and golden hour light were going to dispel the growing feeling that I was bonking, but there was no way Jena was going to stop bombing this incredible 8 mile downhill section. I held on for as long as I could, but eventually (around mile 42, I remember vividly), I said I had to walk and eat something. She graciously walked with me for a few minutes, then as expected, said she'd see me at the aid station. She took off, and I barely ever saw her again on the course.
It was honestly amazing to run with Jena for almost half the race, to see her determination, and how she actually took the race seriously. It's a bit lazy physically to not try to push yourself, and worse, lazy mentally: if you take yourself out of the race entirely, the "oh i'm here but i'm not racing" poise – you can't lose, and you get to dodge the mental pressure of performance. But that's not the point of a race now, is it?
Race night
Caught the tail end of sunset and Jena's crew as I cruised into the Dry Lake aid station, mile 46 or so, the last quarter mile lined with cheering spectators and crew. I still felt pretty draggy from undernutrition, and sat down gladly to offers of chicken noodle soup. Oh, how wonderful those little cups tasted…
It was hard to leave the aid station, now that it was dark. First, I forgot my poles, then I forgot to put on a headlamp. Finally, I dragged myself away from a 15 minute aid station stop, and set off on more downhill. The trail initially passed just downhill from Flash of Gold, and I could see the headlights of runners twinkling down those switchbacks, filtered through the aspens; a sight beautiful to behold, and impossible to capture.
Eventually I hit town, and surprised myself netting a sub 9 min/mile pace on the flat asphalt into the Olympian Hall aid station, 52 miles in, and the half way point of the race.
It was amazing to see Dennis's grinning, joyful face as always. By now it was hard to not spend a bunch of time at the aid station, and I had more chicken noodle soup. Rumors of Jena getting off route ahead of me prompted the frenzied downloading of the course route and maps, which only delayed me at the aid station more.
Finally, Dennis and I pulled out of the aid station, another 15+ minute stop. This part of the course is a 13 mile loop that goes through such colorfully named sections as "Lane of Pain" and "Stairway to Heaven", ending back at Olympian Hall. It was the hardest part of the race for me; somehow, I was just really tired, really creaky, really cranky. I still don't really know what happened; maybe it's just how nighttime saps your energy and raises your hackles; maybe it was just a particularly steep and rugged part of the course; maybe I was still undercaloried. There was much despair at the aid station stops and on the trail, despair Dennis graciously carried with me, ever nudging me along, but not too much.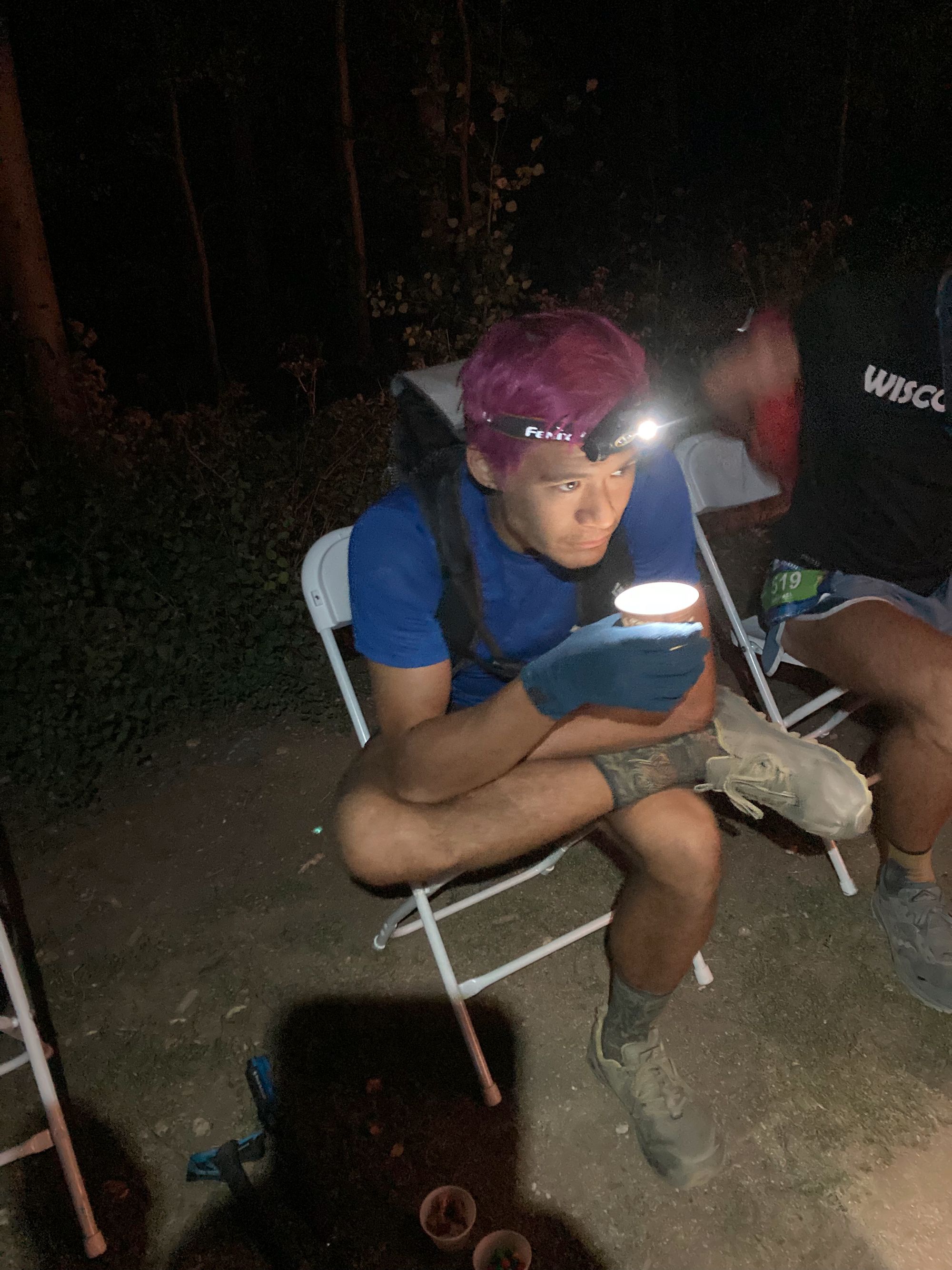 During this dark period, there were also two decisions that turned out to be revolutionary and really changed the course of the race for me. First was "ordering" pizza with Jena's crew at Olympian. Second, at the last aid station stop on this 13 mile loop, I started taking a little ibuprofen (400mg).
After another 20 minute stop (more chicken noodle soup..) back at Olympian Hall, I reluctantly left Dennis behind and, with pizza in hand, starting heading back up to Dry Lake. I ran into a trio of racers that were annoyingly loud and annoyingly slow; I didn't really want to pass them, but remembering Jena's racing spirit I did anyway, at a fast trot / slow jog, mouth stuffed with pizza. Up, up, up I went, up the last big climb of the race. By the time I got back to Dry Lake, it was about 4am, and I was feeling absolutely fabulous: completely revived, barely anything aching at all (good ol' Vitamin I), and just in great spirits. It was the last crew spot, and I caught Jena's crew just as they were leaving. They told me Jena was just 10-15 minutes ahead.
After another 20 minute stop I pulled myself away from Dry Lake, and started up the second half of the climb in the dark. It turned out to be a tricky, rocky mountain biking descent interrupted by steep (45º!) dirt hiking, and I found many folks completely off course. It was marked like mountain biking trails in Moab, with those thick, colored dashes painted on the rock. Some experience running in Moab, combined with just general nighttime mountain navigation, really helped me out here; I don't believe I ever got significantly off-course. I had slowed to 20, 22 minute miles at this point, in the darkest hours before dawn.
Race day #2
Eventually, the trail's grade eased and eastern sky began to brighten imperceptibly. I found myself mostly alone, prodding along a twisty double track dirt road. I got back to the Flash of Gold aid station just before dawn. It had a funny vibe to it; it was a minimal aid station, but there was a fire pit going, and several people – they must be runners! – seemed very settled in around the fire, chatting away and warming their extremities. Something about that murky time before dawn, the quietness of their voices, their lack of acknowledgement of my presence – it felt a bit like a dream, as if I was a ghostly, observational presence, not existing in flesh and blood. It reminded me of dawn on the playa at Burning Man, after a long night groping in the darkness and wind… but a lot of liminal moments these days remind me of those times in the desert, despite my two visits to that festival being so short and always somewhat disappointing. I hurried away from the weird vibes at the aid station, knowing the last big climb of race was behind me, and the radiance of daylight ahead.
After a quick poop break, I resumed my jog / trot up the fire road. At one point, a truck, filled with some very American looking boys, driving aggressively, revving their engine, passed me in a cloud of dust. I wasn't sure why they were so energetic seven in the morning, and their antics somehow filled me with a piercing fear for my personal safety. All sorts of scenarios played out in my head, but I knew that it was mostly exhaust from sleep deprived brain. Finally I arrived at Summit Lake again, unscathed. No dancing this time…
I had a lot to do at Summit Lake to hydrate and eat and try to deal with some groin chaffing, which I've never had before. It was the 3rd last aid station – only two more, Long Lake and Mt Werner – before the finish. At this point, I knew I was going to finish; I had 12 hours before the race cutoff and somewhere between 18 and 20 miles to go.
I pulled out of Summit Lake. After a few walking miles, I realized I could probably make it under 30 hours for the whole run, which was my stretch goal for the race. I had about 15 miles left and 4 hours to go to the 30h mark – 16 minute miles, which felt pretty doable. Suddenly, at mile 87, I willed myself to start pushing again, trying to run as much as possible, keeping a brisk pace on the downhills, power hiking the uphills as quick as I could. This section of the race, just after Summit Lake, was about 8 miles of gently undulating single-track, dubbed the "Wyoming Trail", tracing the continental divide at about 10,500ft elevation. The trail traversed this wide summit plateau, full of tall, yellow grass, spotted by the occasional majestic tree. Morning was in full swing now, the air still. By all counts, it was one of the most beautiful and serene parts of the course.
None the matter, since I had a time to hit, so I kept my head down and kept pushing my pace. It was hard work, but hard work towards a goal that felt achievable. I pulled into the penultimate aid station, Long Lake, with a 5 minute time limit to get out of there. It's surprisingly little time to do even just the basics - pick up food, fill the platypus. My watch said mile 91, but I knew it was about 2 miles over vs the course, so only 11 miles left, right? I asked an aid station volunteer how long it was to the finish, and to my dismay he said, oh, just 13 miles, very short.
All of a sudden I wasn't so sure about coming in under 30h anymore. I had a little over 3 hours to go and apparently 13 miles left; just under 14 minute miles, which after 91 miles felt like an impossible pace to maintain. Nonetheless, I pulled out of the aid station within my allotted 5 minutes. There was a dreaded uphill, only a few hundred feet of gain, and I started to pass folks here or there. At one point I think I passed a hare runner, even! (Hares started 4 hours after us tortoises, but evidently he was really hurting.) As the miles crept by, I was 2 minutes, then 5, then 7 minutes behind the 14 minute mile schedule. I contemplated the stress I had suddenly put myself under, somewhat disassociated. I pushed on.
Finally, the unending hills and valleys gave away to a view of Mt Werner and its plentiful ski lifts, and another eternity of skirting its shoulder brought me within view of the last aid station. All of a sudden, I recognized the trail I was on as what I ran at mile 6, an eon ago. I had been on that same section for a good 5-6 miles now, unwittingly.
I barely stopped at the aid station; I had plenty of water, and didn't need more food, now. I grabbed a quick cup of water, and a fellow racer asked, "how far to the finish?" The aid station volunteer answered "6.4 miles", to which the racer said, "are you sure? The distances so far have been all over the place!" We all chuckled, and the volunteer said, this one is really accurate. Alright then. 6.4 miles to go. An hour and a half to get in under 30h.
I knew the rest of the course was downhill - 3,500ft of downhill on steep, ski-run fire roads, to be precise. I left the aid station and allowed myself a minute or two of walking and a quick bite, savoring the closeness of the finish, knowing I probably had an under 30h finish in the bag. It was high noon, and all of Steamboat Springs and the Yampa Valley were laid out before me. My first hundred mile race – it's all happening.
I took off at a reasonable but quick pace, worried about blowing up my quads on this kind of sustained downhill. I averaged about 12 minute miles down, later learning that Jena, in classic fashion, left it all on the hill and did 7:30s down that same section. After an hour and change through the rustling aspens, I crested a final bump and finally, saw the big blow-up finish line arch amidst the clamor of cheering and cowbells. Final time: 29:47:06.
Post race thoughts
I had come into the race expecting to have to dig deep and fight to keep going, and that proved both truth, and crucial mental prep. In some ways, this made the race much smoother mentally – whenever things got tough, I had prepared to bear down.
That aside, I think Jena really showed me a mindset of actually racing, rather than just treating it as a supported long run. Races are, in a surprise to no one, set up for you to try to finish as quickly as possible, and it's a bit of a waste not to try really hard at them.
Other learnings.. having a crew is great: they bring you stuff, they help you do stuff at aid stations, and it's a surprisingly awesome emotional lift, even though I had just met the folks in Jena's crew! Real food, like pizza, is really helpful on these long runs, especially preceding a section you know you'll be walking. Ibuprofen really helps on these long runs (say, >12 hour).
Overall, I'm just over the moon at how well the race went. Having run a pretty pithy volume this year, I wasn't sure if I could finish at all, never mind finishing under 30h. Last year's 100M was a desperate affair; after dragging my wrecked body and crushed soul over the finish line, my goal for this year was to finish a 100M faster, and with some measure of dignity.
Now, almost two weeks after Run Rabbit Run, I'm just left with such a satisfied feeling.. I feel like such an accomplished runner now, to finish a 100M race under 30h, and to finish it with dignity. It's just absolutely magical, and I'm very pleased :)
---
If you enjoyed reading this missive, subscribe to my future posts here! I won't post more often than once a week.